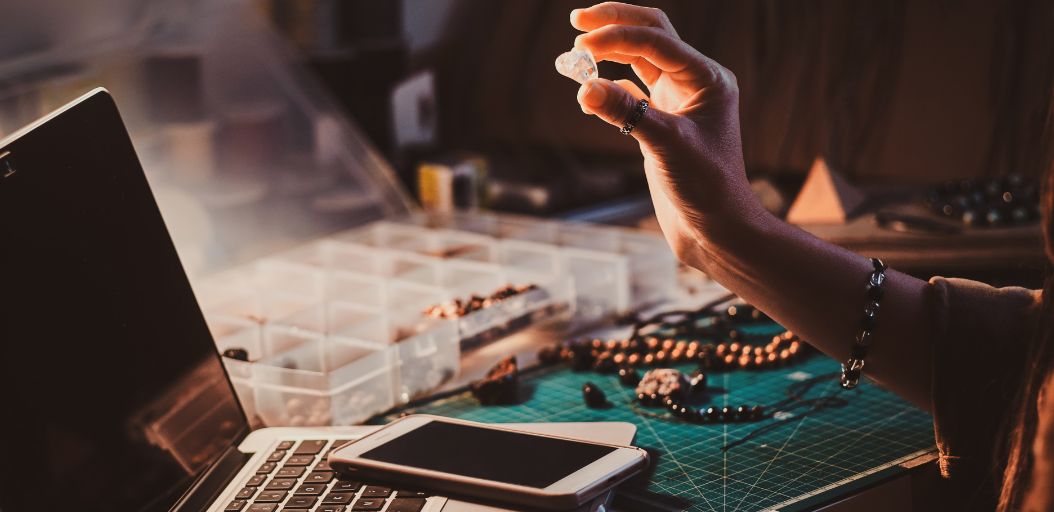 In a world where people are actively seeking peace and tranquility, crystals have surged in fame. Their renowned healing properties, captivating aesthetics, and stunning array of colors have captivated many. Crystals are available in diverse shapes and sizes including spheres, palm stones, tumbled stones, and freeform varieties. In light of this trend, the crystal wholesale business has flourished, catering to the growing demand for these enchanting treasures.
The business of wholesale crystals and stones allows a broader audience to access their transformative qualities. Enhance your well-being with its positive energy. Crystals can also embrace the beauty of your space which can be a home, office, or study room. Crystals can be used for both decoration and improving mental well-being through healing practices.
Many people have been using crystals to cleanse their lives and reconnect with nature's energy. Crystals help us in making our lives more balanced and healthy.
Looking forward to the wholesale gemstones and crystal business, you will enter the world of holistic wellness and a profitable venture.
Here are 6 steps for establishing a crystal business
1. Research and Planning
Research and planning are fundamental for a successful crystal business launch. Planning will help you to create a business plan that aligns with your goals behind establishing a crystal business.
Creating a great business plan may involve
Target audience
The target audience is those people who are interested in a product that you are selling. The target audience can be found through surveys.
In the crystal business, you can target people who are wellness enthusiasts, energy healers, meditation practitioners, collectors, gift shoppers, and individuals seeking natural remedies.
Competitor analysis
Competitor analyses will give you a brief about what other businesses selling the same crystals are doing. It helps you understand their strategies.
Like the kind of crystal properties they are showing, the crystal pictures they are uploading, or what kind of content they are writing. By looking up to that you can make your strategy to run a successful wholesale crystal business.
Analyzing pricing
Price makes a huge difference in the market. By analyzing it, you can create a balance between profitability and customer appeal. Various factors are been involved in the price of a particular crystal. Pricing depends on crystals size, shape, color, properties, and other factors that are been involved.
There are a few factors involved in pricing
Cost: All expenses of your crystals.
Profit margin: It will be the amount which will be left by you after all expenses.
Trends: Check market swings and adjust prices accordingly.
Perception: Balance prices with customer expectations.
2. Identify niche for your crystal
Your niche will influence your sourcing strategy, branding, and marketing efforts.
There are a few things that have to be done while deciding your niche
Crystal Focus
Justify what kind of crystal you are going to sell. Whether it is RAW form, polished crystals, Chakra crystals, or so on. Kindly define the properties and uses of your crystal.
Consider Demographic audience
Define your target audience's age, gender, location, and in what kind of crystal they are interested. This will help your business to create an offering or marketing strategy.
USP
Unique Selling Price is an integral part of your business niche. Your USP sets your business apart from others offering the same crystal.
It can be anything but it must truly stand out as unique. In USP, do mention your crystal type that is unique or different from another crystal business.
3. Brand Identity
Creating a brand identity is important as it forms the core of your business. It defines how your crystals will be shown to the world.
Creating brand identity includes
Business name
Choose a name that resonates with the world of crystals. Also aligns with your niche or unique selling point connected to your crystal.
Logo
Your logo is like your brand's face. It should be appealing and classy. When people see it, they should quickly understand what your brand is all about. Your logo may include the colors of the crystal you are having.
Tagline
Tagline is a concise and memorable phrase that represents your company's vision. Your tagline needs to be connected with the crystal properties.
4. Sourcing Crystals
Prioritize ethical sourcing for crystal wholesale online business and build strong relationships with suppliers. Always strive to offer the best possible products to your customers.
Ethical Sourcing
Make sure your business ensures the authenticity and integrity of the gemstones and crystals you offer. It should also resonate with the conscientious values of your audience, ultimately forging a path toward sustainable growth and a positive impact on your online crystal business.
5. Build online presence
By using online platforms, for wholesale crystals and stones, you can reach a wider audience, showcase your unique offerings, and connect with crystal enthusiasts around the world.
Online presence can be created in these ways:
Build an eCommerce
Your eCommerce website is your online presence.
Launching an eCommerce platform for your online wholesale crystal business is a strategic way to showcase your crystals. Existing and potential customers can learn about your crystal types or properties on eCommerce platforms. You can build your website using WordPress, Wix, Shopify, etc.
Social Media Engagement
Establish and maintain active social media profiles. Share visually appealing images and information about your crystals to connect with your audience.
Facebook, Instagram, Twitter, Pinterest, and TikTok are the most common social media platforms for selling crystals.
Google My Business
By listing your business on google my business your buyers can reach you easily. It gives them the location and your working hours and the best part is they can also leave reviews.
You can set up your google my business by following these steps:
Access Google My Business: Go to the Google My Business website.
Sign In: Log in using your Google account or create one.
Add Business: Click "Add your business to Google" and enter your business name.
Choose Category: Select "Online-only store" as the business category.
Location Details: Add your business address.
Service Area: Define the areas you deliver.
Contact Information: Include your phone number and website URL.
Verification: Verify your business using a postcard with a verification code.
Content Strategy:
Crafting captivating content for your wholesale gemstones and crystal business boosts website traffic and engagement. This will ultimately give growth to your business.
You can create your content by using this strategy:
Define Your Goals: Clarify your objectives. Whether it's brand awareness, customer education, or lead generation.
Content Types: Choose content formats that resonate with your audience. It can be blog posts, videos, or educational content.
Content calender: Plan a calendar outlining when and what type of content you'll publish. Doing things on purpose will be more engaging for your audience.
Keyword Research: Identify relevant keywords related to gemstones and crystals. Use tools like Google Keyword Planner or Semrush.
Measure Results: Use analytics tools to track the performance of your content. Adjust your strategy based on insights.
Your tools can be google analytics, google search console, and Content Management Systems.
6. Networking and Collaborations
Networking and collaborations offer the opportunity to expand your reach, share insights, and establish mutually beneficial relationships with suppliers, retailers, and industry experts of crystals.
Collaborations can be done in the form of joint marketing. Collaborate your business with other crystal businesses that are running campaigns of the same crystal as yours. This will make you reach out to a broad range of crystal customers.
Join online crystal and gemstones communities to increase your network or connection. An increase in the network will make things much easier for you and your customers. You can join crystal groups of the same niche as yours. It can be the same crystal category group or the same properties of the crystal group. Engage in social groups to make them feel your presence.
Conclusion
Starting an online business of wholesale gemstones and crystals will blend entrepreneurship with spirituality. Starting from conducting research in the crystal business to networking and collaborations you can create a polished crystal business. This will resonate with your target audience and also contributes to their well-being on a holistic level.
The key to success lies in your passion for crystals and your dedication to providing value to your customers.
FAQ
Where can I source bulk gemstones and crystals for my business?
There are various options for sourcing crystals. It can be sourced from reputable suppliers, crystal exhibitions, and online marketplace. People who are specialized in wholesale gemstones and crystals are trustworthy.
What are the essential legal requirements for starting the crystal business?
Certain steps need to be followed.
Register your business, obtain necessary licenses, consider tax regulations, and adhere to any labeling and disclosure requirements for gemstone authenticity.
How do I handle shipping and logistics for bulk orders?
Partner with reliable shipping carriers, offer transparent shipping options and communicate shipping times and costs to your customers.