Traveling is an awesome experience. Being away from the daily chaos and exploring the world at your own will seems like the best thing that can happen in your life. But there are a lot of other things that must be considered while you're away from your home – Your safety, your happiness, your luck, and your health.
Therefore, to make your journey safer and happier wherever you go, it is advised to carry some crystals for traveling that will keep you protected from the negativity and evil eye, keep your health and luck in check, and are the good omen to travel with.
So, to assure you of a much happier and more protected travel experience, don't forget to carry these 10 best crystals for traveling.
Top 7 Crystals For Traveling You Must Carry
1. Amethyst
Amethyst is the real protector and one of the best crystals for traveling. This travel crystal protects you from the negative energies and the evil eye. It is also great at keeping you safe from the electromagnetic waves that you might be surrounded by easily during your whole journey.
Amethyst absorbs all the negative energies around you and turns them into positive energies. This can instantly put you into a happier and calmer mood.
Also, if you're feeling anxious or depressed being away from your home and family, then this travel crystal is a great fighter of stress, anxiety, and depression. So, travel crystals like Amethyst are your full-proof protection plan.
2. Rhodochrosite
There are a number of benefits that make Rhodochrosite the best crystal for traveling. It is the single solution to multiple issues you might face during a journey.
This travel crystal is known to guard against feeling homesick while traveling. It balances blood pressure, stimulates even blood circulation in kidneys, reproductive organs,
This crystal for traveling also stabilizes and regulates the heartbeat evenly. So, if you don't work well with flights, trains, or buses, and feel nauseous or have abnormal blood pressure, then Rhodochrosite is one of the best travel crystals to hold on to.
3. Hematite
Do you feel jet lag after traveling? Or do you feel that your legs are swollen due to the long journey? Hematite is the simple cure of jet lag. It is among the best crystals for traveling to relieve stress, feel balanced, and regulate blood flow.
The high content of iron in Hematite directly connects it to the issues related to blood. This travel crystal improves blood circulation to avoid blood clotting and high blood pressure. So, next time you board a plane or a train, make sure to keep this healing crystal close to your heart.
4. Black Tourmaline
Black tourmaline and protection are interconnected. This travel crystal has been used for ages. The people in ancient times used to tie rough black tourmaline crystals around their hands and necks to stay protected from evil eyes and negativity.
Any sadness or loneliness that you might feel while traveling would be pushed aside by this healing crystal. It is best to keep you calm and grounded and to keep all your chakras balanced.
5. Serpentine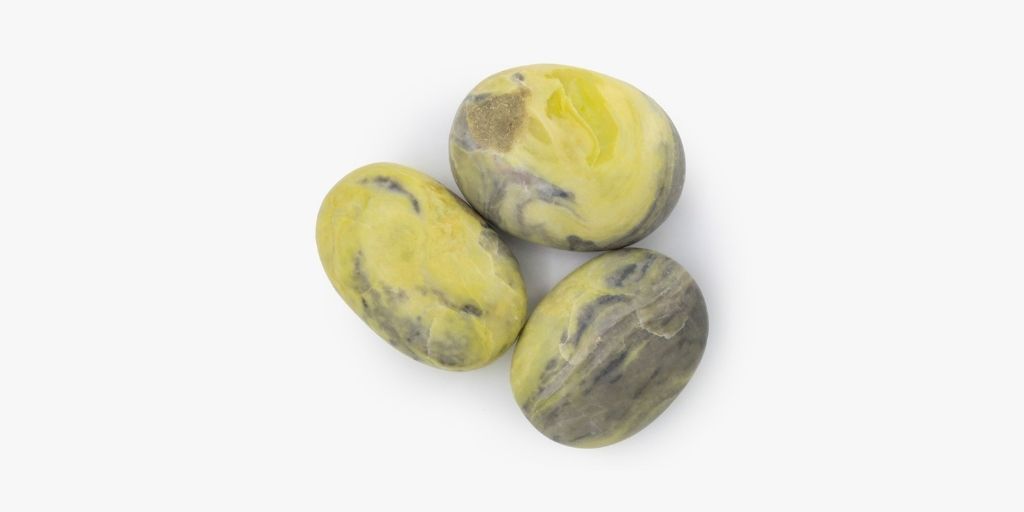 Serpentine is made of hydrated magnesium silicate and is very effective in surviving the thermal energy transfer. This travel crystal tranquilizes the rage and helps alleviate depression.
This is among the travel crystals that are especially used when you feel stuck and are unable to make any decisions in your travel journey when something difficult happens. Serpentine clears the clouds of confusion and helps in faster decision-making.
Serpentine is also the stone to heal from any bites and stings if you're traveling through forests or mountains.
6. Blue Calcite
Blue calcite protects you from sunburn. This travel crystal is a wonderful healing stone that balances emotional and mental health. It keeps you calm and peaceful to enjoy your journey to the fullest.
These crystals for traveling are very protective of one's aura. It cleanses the aura and guards it against all kinds of negativity.
7. Ocean Jasper
Ocean jasper is a rare Jasper used to fight travel sickness while traveling. Such crystals for traveling are used to uplift the energies and shift aside the energies that are dragging you down.
This healing crystal helps you shape an optimistic overlook towards life and reminds you to be youthful and cheerful in all situations. It enhances your experience of traveling by keeping you full of energy and calm.
Bonus Read
The travel crystals are amazing to keep you protected from all kinds of difficulties you might face during your journey. So say goodbye to any jet lag, travel sickness, or flight fears.
The best way to carry these crystals for traveling easily is by wearing crystal jewelry or keeping small tumbled crystal stones inside your pockets or traveling bags. This ensures that you are always surrounded by their energies and nothing cuts through it.
You can easily find such healing crystals wholesale online at places like Tocrystal. We are the leading wholesale crystal supplier dealing in all kinds of healing stones, crystals, and gemstones of all shapes and sizes.
Tocrystal
We are the leading wholesale supplier of
---
100% Quality Crystals
Wholesale crystals and gemstones of all types, shapes, and sizes are available