The most important people in your life could be your parents, your siblings, your friends, your children, or just your partner. But the truth is, that's not enough.
Having important people in your life is a good thing, but it isn't enough unless you keep yourself on your priority list. Self love is essential.
But I understand that most of you are struggling to bring such energies within you and that's the reason you are here. Let me tell you, you are at the right place.
There are many Self Love Crystals that you can use to clear those blockages that are stopping you from experiencing that feeling. I will be sharing with you the 7 best Self Love Crystals for Self Confidence, Self Awareness, and Self Healing.
---
7 Best Self Love Crystals
You can't fill in someone else's cup if your pot is empty. What I mean here is that before you fill others' lives with love and happiness, you yourself must be content with those things.
Most of you neglect yourselves. You skip meals, work overtime, don't take the complete 8 hours of sleep, and drag your bodies everywhere even if it wants some rest. And the worst part is, you even forget to take care of your mental health.
Most of you might be dealing with stress, anxiety, depression (that's a killer), self-criticism, and under-confidence. But trust me, you don't deserve all this.
You deserve love, respect, understanding, rest, and every good thing that this world has to give. Who is going to give you all these things? The answer is simple – You.
Who could love you, respect you, and understand you better than yourself? You don't need anyone, all you need is some self-love, self-confidence, and self-awareness. And, these 7 Self Love Crystals will help you achieve that.
1. Rose Quartz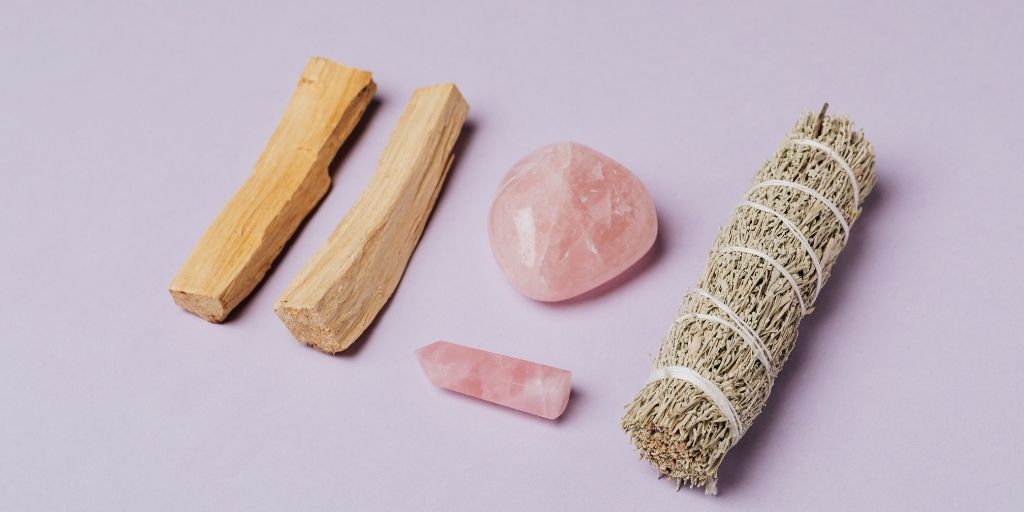 Rose Quartz is the promoter of love. It is an excellent self love crystal that clears blockages to let the soothing energies of love flow through you. Rose quartz helps you balance your emotions, releases emotional stress, and liberates you from being a self-critic.
Rose quartz is a wonderful stone for love. It is also known to enhance love among relationships and boost self-confidence. If you are beginning to indulge in healing crystals, then Rose Quartz needs to be the first in your collection.
2. Rhodochrosite
Rhodochrosite is one of the best Self Love Crystals. This healing crystal enhances self-worth. It helps you understand the importance of self-love and fills you with kindness towards yourself.
You don't need to feel insecure. Rhodochrosite protects you from the hate that comes from you as well as others. You feel more worthy, powerful, and confident. You can wear a rhodochrosite bracelet for the healing crystal to brush against your skin and keep sending its loving vibrations into you.
3. Amethyst
Amethyst self love crystal is the killer of stress, anxiety, depression, and fear. All these demons are the enemies of Self Love and need to be killed. Not feeling anxious and depressed is the best practice of Self Love.
Amethyst absorbs all the negativity from within and around you. It clears your aura and turns that negativity into positive energies. This positivity brings calm and peace than enhances self-love. Amethyst is among the best self love crystals that are not just good for love and peace but take care of complete mind, body, and soul.
4. Citrine
Citrine self love crystal clears self-doubt. This healing stone is associated with the Crown Chakra that allows you to connect with your highest self and discover the true you. It alleviates negativity, shoves in positivity, and heals the bearer from depression.
Self love crystals like Citrine are great at enhancing the psychic growth that leads to mental clarity and self-confidence. You do not feel surrounded by confusion, Citrine clears all these confusion clouds to make the decisions more confidently.
5. Rhodonite
Self Love crystals like Rhodonite helps with the balancing of the Yin and Yang energies of your body. If you start using this amazing self love crystal, you may feel a sudden boost in your self-confidence. Rhodonite keeps your head clear and makes you realize that your life deserves your worth and respect.
There should not be a single moment where you doubt or regret your existence and this self love crystal makes you understand that very clearly. You can make decisions with wisdom and without self-judgment.
6. Tiger eye gemstone
Tiger eye gemstone is another self love crystal for your mind, body, and soul. This powerful healing stone instills self-respect, self-esteem, self-confidence, and the strength to believe in yourself. It is the best self love crystal for protection. You feel brave and self-reliant with tiger eye gemstone.
Tiger eye gemstone is particularly known for alleviating fear and anxiety and healing psychosomatic illnesses. Be brave and courageous with this healing stone and know that you are worth way more than what you believe.
7. Green Aventurine
Self love crystals like Green aventurine promote heart healing, self-development, growth, and belief in the new beginnings and better today. It is the stone to bring luck, gives you a positive look, and attracts positive things in life.
Green Aventurine self love crystal boosts confidence and embraces change. It does not only instills self-love but it is also a great stone to attract new love towards you. If you're looking for a healthier existing relationship or finding someone for your love life, then this healing crystal is best at attracting the most compatible one for you.
---
Bonus Read To Promote Self Love
Promoting self-love using amazing self love crystals is a great way to clear your energies and welcome self-love, self-worth, and self-confidence. However, it is important to understand there is not only one way to do this. There are multiple acts of kindness that you can practice to enhance self-love. here are a few things you MUST DO at least once in 2 months to enhance self-love.
Take therapeutic baths
Take therapeutic baths with essential oils or scented bath bombs to relax your nerves. After taking care of your home or work, you deserve this peaceful, warm bath. Be kind to yourself and take this break to experience self-love.
Indulge in aromatherapy
Light scented candles or oil diffusers to calm your mind. Sit quietly in your room and feel the positivity around you. This is the time to feel grateful for each breath. No matter what wrong is going on in life or what bad has occurred already, or what might happen next, you must remember that nothing is permanent. Life is a gift and you fairly deserve it.
Exercise
Exercise, perform yoga, meditate, or perform reiki using your self love crystals, but it's important that you move your body to stay healthy. A healthy body is the first step towards a healthy mind.
Eat healthy as well as tasty
Keep your diet healthy. Giving up on too much junk food, sodas, and canned food is also an act of self-love. Eat more fruits, drink more juices, and consume more healthy fats. This doesn't mean that you need to punish your taste buds. Treating yourself with tasty treats is equally important. Keep a balance and love yourself.
Go for a walk alone or with your best person
Walking is not just an action. It is the best way to think, let go of things, observe surroundings, experience energies around you, and give your eyes a candy of changing visuals. You may think that you do that every day by commuting to work, markets, or schools, but these commutes often involve hurry and distractive thoughts. When was the last time you looked up at the sky calmly or embraced a statue? Take walk alone or with anyone you enjoy spending your time
Share your happiness and grief with your close ones
Sharing your happiness doubles the joy and sharing of grief cuts down the burden to half. You'll agree with me once you start doing it. This is one of the most important acts of self-love you must perform.
Keep a diary
If you're living away from your family and friends or if it isn't possible to share your happiness and grief with other people, the best is to keep a diary. At the end of the day, the idea is to share things and let them out. Sometimes a pen and paper could be better than any human being on earth.
Take proper sleep
Sleep is the key to a healthy body, healthy mind, healthy spirit, and healthy life. Once you regularly start to sleep 8 to 9 hours in the night, you'll start to notice the difference. You'll feel amazing and I can bet, you'll feel more confident, loved, and powerful (I know you still don't trust me but yes, sleep will do that!)
So with this, I now end my article for the 7 best self love crystals and practices. I hope this will encourage you and inspire you to love yourself.
Now before you go, I appreciate the time you've spent on Tocrystal. We are the wholesale crystal supplier dealing in 100% quality crystals. Tocrystal offers worldwide shipping of bulk crystals gemstones, healing stones, crystal towers, self love crystals, etc.
Tocrystal
We are the leading wholesale supplier of
---
100% Quality Crystals
Wholesale crystals and gemstones of all types, shapes, and sizes are available